Task management is pretty crucial for successfully running a business as it helps you break down projects into smaller achievable parts and delegate those parts more efficiently to the best-suited teams.
Task management can be defined as everything involved in the process of managing the full life-cycle of a task. When effectively implemented it allows for better time management and allows you to set proper deadlines and assign the work to capable people.
In order to ensure your business remains as flexible as possible to keep up with today's rapidly changing markets, you're going to need to implement effective task management. This is best done by using task management software.
Armed with these incredibly flexible tools you can organize your tasks with ease irrespective of whether you're a freelancer or a massive agency.
So if you're wondering which is the best task management software for you, then dive headfirst into this article, and by the time you're done, you should have a sense of exactly what works for you based on your unique needs.
10 Key Features of the Best Task Management Software
Here are some of the features that you should pay extra attention to with each of the Task Management Software:
Full Flexibility

is one of the prime features of a Task Management System Software. Many tools will offer complete organization for your business.

Time Tracking

is another thing to look for as it helps you finish your tasks within time.

Many of the tools have a

User Interface

that makes it easy to browse around with natural visuals.

The

Structure

of your task management is quite important as you will need one that supports many sub-tasks and members.

As you always want to make sure things get done on time,

Task Prioritization

comes in handy. It helps your team be focused on things that need more of their attention.

Collaboration

features are essential for the effective completion of tasks in today's age.

To keep the experience flexible and engaging,

Task Customization

is pretty important. Many of the tools offer you pre-made templates too.

Multiple View

features also come in handy as they allow you to analyze your tasks in different forms like charts and calendars.

Customer Support Service

is often forgotten among the waves of features a Task Management Software offers but it's really important as you want to get your tasks done without facing any issues or errors.

Finally,

Task Tracking

features are also pretty useful as they let you oversee the progress.
While tracking is great, to be extra effective try and automate your tasks especially the ones like posting on social media which take a lot of time and aren't very productive. Consider using a software to manage your social media workflow.
Moreover, you can also try to look out for processes that you can automate to save time and increase productivity. For example, sales automation, marketing automation, email automation, and so on.
I should note it here that if your website is an online course platform, then a Learning Management System would come in more handy for you. Check my guide on it here.
Top 15 Best Task Management Software to Use in 2022
Jira Work Management — The Project Management Tool for Agile Teams
Number one on the list is Jira. It has been tried and tested and has been around for quite a while which is one of the main reasons it's first on this list. It also comes with powerful features that make it ideal for marketing, HR, finance, and other business teams.
The best features of Jira are the views, which allow you to pick a view for days, weeks, months, quarters and even beyond. It also has Lists which allows in-line editing, Timeline which lets you plan, allocate work and map out larger projects.
It also has a Calander feature which is a huge plus to planning and scheduling work in order to meet your deadlines and you can track the work all the way to completion through the Boards feature.
Here are some quick Pros and Cons of the Jira Work Management Software:
Pros
Immediate access to latest features with automatic upgrades

No servers, no storage, no maintenance required

Organization insights to track product adoption

Flexible "per user" pricing
Cons
Jira Work Management is only offered as a cloud subscription and there is no self-managed version available.
Pricing and Features
The Free plan is ideal for under 10 users and comes with the following features:
Unlimited tasks

Unlimited projects

List view

Timeline view

Calendar view

Board view

Forms

Single-project automation

Global & multi-project automation

Business project templates

Dependency management

Reports

Dashboards

Background colors

Smart Links

Apps and integrations

Customizable workflows

Custom branding & colors

Domain verification & account capture

Session duration management (desktop)
If you have more than 10 users then the Standard plan cost $5/user/month and has everything in the free plan plus:
User limit of up to 10,000 users per site

Up to 500 Global & multi-project automation

Issue-level security

Advanced permissions

Project roles
Asana—Task Management Software Fit for Larger Teams
Second on my list is Asana, which is one of the best Task Management Software for companies and agencies with decently sized teams. It's also actually one of the more popular options on the market.
Since they have a huge amount of customers, they have naturally been getting the most feedback out of all the tools on the market. As a result, their features are fine-tuned after years of taking reviews into consideration.
Asana is also pretty easy-to-use, thanks to the great user-interface. There are also a lot of integrations available for Asana that covers the spots where it's lacking.
It integrates with many of the popular software. Chances are that your business is already using a few of these already. So, management will be extra convenient if you get a compatible Task Management Tool like Asana.
Pros
There is a free plan available, which makes it affordable to get into Asana.

Asana has some great collaboration features available.

A huge variety of customization options.

Asana integrates with many popular software.

There is no need to worry about security with Asana as it is very secure.
Cons
Asana does have time tracking but only through integrations.

New users might find it hard to get the most out of Asana.
Pricing and Features
There are four Asana plans.
The Basic plan is completely free. It gives you these:
Unlimited tasks

Unlimited projects

Unlimited activity log

Unlimited file storage (100MB per file)

Collaborate with up to 15 teammates

List view projects

Board view projects

Calendar view

Assignee and due dates

iOS and Android mobile apps

100+ free integrations with your favorite apps
The first paid plan is called Premium and it costs $10.99/month. It includes all the features from Basic and also these extra ones:
Timeline

Dashboards

Advanced search & reporting

Custom fields

Unlimited free guests

Forms

Rules

Milestones

Admin Console

Private teams & projects
I recommend that you go with the Business plan, which costs $24.99/month, as it should cover most use cases. It has features from Premium, plus:
Portfolios

Goals

Workload

Custom rules builder

Forms branching & customization

Approvals

Proofing

Lock custom fields

Advanced integrations with Salesforce, Adobe Creative Cloud, Tableau, Power BI
In case the Business plan is still not enough for your business requirements, you can go for the Enterprise subscription, the price of which you can only learn after contacting Asana with your needs.
It naturally includes everything from the previous plans, on top of the following list:
SAML

User provisioning & de-provisioning (SCIM)

Data export & deletion

Block native integrations

Attachment controls

Custom branding

Priority support
Trello—A Task Management Tool Great for Smaller-Scale Projects
Trello is a Task Management tool that's popular among small businesses, small agencies, and individual freelancers. It has a free plan that's one of the, if not the, best ones available on the market.
Trello is also pretty easy-to-use. It has a project kanban boards type approach with management where you sort your tasks on the board using a drag-and-drop editor.
It doesn't have some of the powerful features of other Task Management Software, but it still has enough for smaller workloads. While that may be considered a drawback, it does simplify the tool. That's why it's the most ideal option for small businesses.
Pros
Trello has a user-friendly interface and a drag-and-drop editor.

It has an entirely free plan.

Trello receives updates in real-time so that you notice no delays.

There is a nice and convenient notification system in the tool.
Cons
Trello has no offline mode available, you always need an active internet connection to use it.
Pricing and Features
Trello has simple pricing options. There are just three plans:
Trello's Free plan is pretty good in its offering. I recommend that you sign-up for it as a way to try out Trello. You will get access to these:
Ten boards per team

Unlimited cards

Unlimited activity log

10MB file per attachment

250 workspace command runs per month

Two-Factor Authentication
Next is the Standard plan, which costs $5/user/month. It includes all the Free features, plus all these:
Unlimited boards

Advanced checklists

Custom Fields

Unlimited storage (250MB/file)

1,000 Workspace command runs per month

Single board guests

Saved searches
Next there's the Premium plan, which costs $10/user/month. Premium is best for teams up to 100 that need to track multiple projects and visualize work in a variety of ways.
It includes everything in Standard, plus:
Dashboard view

Timeline view

Workspace Table view

Calendar view

Workspace Calendar View

Map view

Unlimited Workspace command runs

Admin and security features

Workspace-level templates

Collections

Observers

Priority support

Google Apps sign-on

Simple data export
If you want to go a step-above, the Enterprise plan would be the one to go for. It's price starts at $17.50 per user per month and goes down depending on the number of users you will be having.
It has these features other than the ones already in the last plan:
Unlimited Workspaces

Organization-wide permissions

Organization visible boards

Public board management

Multi-board guests

Attachment permissions

Power-Up administration

Free SSO and user provisioning with Atlassian Access
Airtable—A Low-Code Task Management Platform for Building Collaborative Apps
Next on my list is Airtable. It's a popular platform and you might have heard its name already. It is a bit unique Task Management Software in that it uses spreadsheets to organize data.
While it may sound a bit like Microsoft Office Excel, Airtable is actually much more powerful. It's quite flexible too. You can use it to organize your tasks however you like, be that a grid, calendar view, or a Gantt chart.
Here are some Pros/Cons of Airtable:
Pros
Airtable is known for its ease of use.

Tracking project tasks progress is quite easy and efficient.

There are many template options so that you can choose the best look for your task and project management app.

Airtable has many viewing options for displaying your project tasks.
Cons
Airtable does not auto-refresh so working on project tasks with a team member would mean you don't see changes in real-time automatically.
Pricing and Features
Airtable has four plans, including a Free one that gives you access to these:
Unlimited bases

1,200 records per base

2GB attachment space per base

Two weeks of revision and snapshot history

Rich field types including file attachments, checkboxes, dropdowns, and more

Grid, calendar, form, kanban, and gallery views

Web, desktop, iOS, and Android apps

Real-time collaboration and commenting
For $10 per user per month, you can get the Plus plan that comes loaded with all free features and also these:
3 apps per base

3 sync integrations

5,000 records per base

5GB of attachments per base

Custom branded forms

6-month revision & snapshot history

Automatic table syncing
I recommend the Pro plan at $20 per user per month with the following features (other than the ones already in the last subscription):
10 apps per base

7 sync integrations including Jira Cloud

50,000 records per base

20GB of attachments per base

Gantt & Timeline Views

1-year revision & snapshot history

Personal & locked views

Field & table editing permissions
If none of the plans fit your business needs, you should contact Airtable for a quote of the Enterprise subscription.
There is also a free trial for paid subscriptions available.
ClickUp— An Adaptable Task Management Software for Teams of All Sizes
ClickUp is number five on my list. It's a Project Management Software that is easily the most affordable on the market. Despite the small price, it still offers a plethora of features for task management.
It also has a completely free plan, but unlike most other Task Management Software, Clickup's no-cost subscription is actually pretty powerful, which certainly adds to the affordability of the tool.
Pros
It has a lot to offer you in terms of features like time tracking project management tools.

The ClickUp customer support service is pretty good.

It's pretty affordable.

ClickUp is a suitable project management solution for both individuals and teams.
Cons
Some users may find that the project management tools have a bit high learning curve.
Pricing and Features
ClickUp likes it simple and has only two plans, a free one and a paid one.
The Free plan comes packed with this list of features:
100MB Storage

Unlimited Tasks

Unlimited Members

Two-Factor Authentication

Collaborative Docs

Real-Time Chat

Email in ClickUp

Kanban Boards

Sprint Management

Native Time Tracking

In-App Video Recording

24/7 Support
The paid plan is called "Unlimited" which is perfect for small teams, and it costs $5 per user per month (when paying annually). It includes everything from the last plan, plus these extras:
Unlimited Storage

Unlimited Integrations

Unlimited Dashboards

Guests with Permissions

Unlimited Gantt Charts

Unlimited Custom Fields

Teams (User Groups)

Goals & Portfolios

Form View

Resource Management

Agile Reporting
There is also a free-trial that you can sign-up for to try out the paid plan.
Next is the Business plan which costs $9/user/month and is ideal for mid-sized teams. It includes everything in "Unlimited" and:
Google SSO

Unlimited Teams

Custom Exporting

Advanced Public Sharing

Advanced Automations

Advanced Dashboard Features

Advanced Time Tracking

Granular Time Estimates

Workload Management

Timelines & Mind Maps

Goal Folders
Finally, there's Business Plus for multiple teams which costs $19/user/month and gives the following additional features:
Team Sharing

Subtasks in Multiple Lists

Custom Role Creation

Custom Permissions

Custom Capacity in Workload

Increased Automations & API

Personalized Admin Training

Priority Support
If this isn't enough, you can contact the sales team for the Enterprise plan.
Basecamp—A Fairly Simple Kind of Task Management Software
Basecamp is another great Task Management Software that will help you work on your projects with your teams. Something that makes it stand out from the rest is the simplistic design, which makes it easy-to-use.
It also has some neat extra features like group chat, which makes it easier to manage your tasks between different teams. Some of them are:
Messages

Real-time chat

To-do lists

Schedules

File storage

Documents

Check-ins
Pros
Basecamp has some great pricing.

It natively integrates with many popular software.

Basecamp has iOS and Android project management apps.

Since it's cloud-based, it's easy to share files between team members.
Cons
There are no time tracking features on Basecamp yet.
Pricing and Features
Bascamp has just two pricing plans as well.
The Personal plan is free and gives you access to all this:
Three projects

Twenty users

1GB storage space
The Business plan costs $99/month (notice how it isn't per user/month) and features include:
Unlimited projects

Unlimited users

500GB storage space

Company HQ

Team projects

Unlimited clients

Advanced client access

Project templates

Priority support
If you want to try the paid plan, check out the 30-days free trial.
Flow — A Task Management Dashboard for Remote Work
Seventh on my list is Flow, a Task Management Software that uses a single dashboard that anyone can see and monitor progress, deadlines, to-do's, etc. It makes team management easier and more efficient.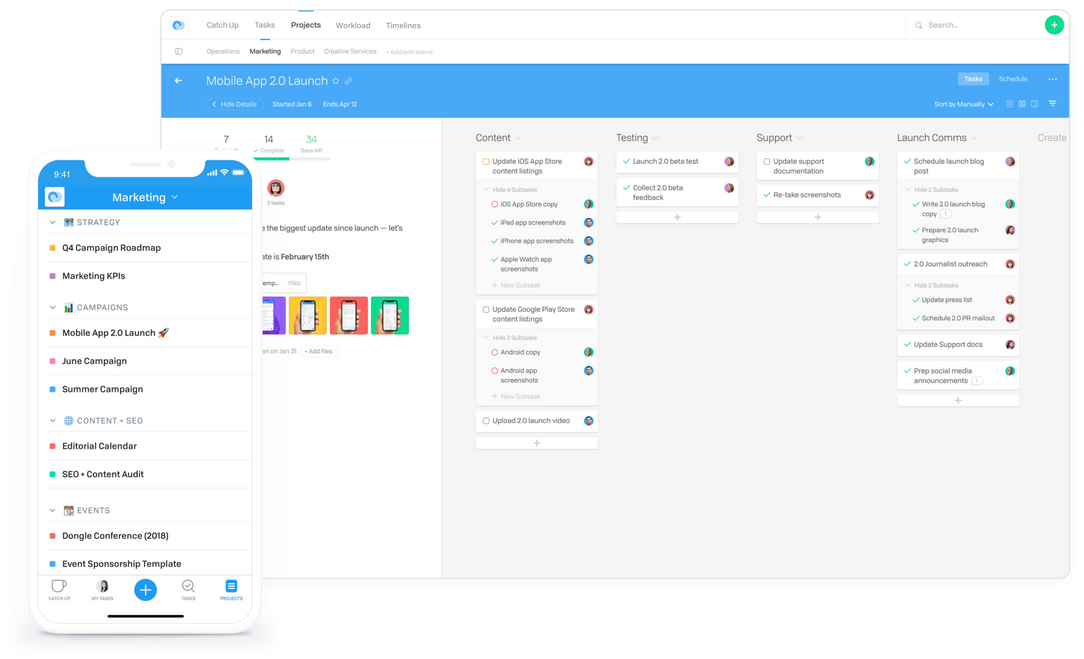 The best thing about Flow is that you can easily monitor task lists and managers can assign tasks with a few clicks of their button using labels, email, and other categories. Flow helps simply the project workflow.
Pros
Flow Dashboard makes overviewing easier.

It works well for organizing small teams.

The user-interface is great.
Cons
It's not that suitable for big teams.
Pricing and Features
The Basic plan costs $6 per user/month. Features are:
All essential features

Some basic integrations

Great security and support
The mid-tier plan is called Plus at $8 per user/month with these features:
Everything in Basic

Advanced features

More control and insights

All basic integrations

API access
Lastly, there is the Pro plan that costs $10 per user/month and gives you access to the following:
Everything in Plus

Advanced security

Access management

All integrations (incl. Zapier)

VIP Support
There is a 30-days free-trial too.
MeisterTask — Secure Task Management for Teams
MeisterTask has a simple, solid foundation. With a dashboard, projects and tasks, it's super easy to work with and stay focused. The design s simple and intuitive to the point where you may not even need to use the tutorials to learn how to work with it.
The Kanban boards adapt to your workflow and help you monitor your project's progress. It also comes with several integrations making life much easier. Pus with shared projects, shared tasks, comments, mentions, notifications you can easily collaborate on almost anything.
Finally, it also allows you to get detailed insights into your team's productivity with statistics and reports.
Pros
Simple

Intuitive design

Secure (two-factor authentication and 256-bit Secure Socket Layer)
Cons
There are more powerful tools out there and some users might find MeisterTask limited in terms of features and visual detail.
Pricing and Features
The plans offered are:
Basic

which is free to use

Pro

which costs $4.19/month and is great for smaller teams

Business

which costs $10.39 and is great for collaboration with larger teams

Enterprise

for large companies with specific requirements
Some of the top features are:
Project Features

such as unlimited sections, filters, timeline, automation, recurring tasks and task limits.

Task Features

like assignees and watchers, due dates, time tracking, custom fields, multiple checklists, attachments, task relationships and tags.

Analysis Features

such as progress, time and safety reports

Transition Features

for shifting from other tools to MeisterTask

Several other features for communication, administration, etc
Monday—A Customizable and Somewhat Complex Task Management Tool
Number nine on my list is Monday(.com), a task management software with a visually appealing user interface. It also comes packed with many nice-looking premade templates.

And the best thing? There are a LOT of customization options for those templates. Though, on the other hand, some users find that it makes Monday(.com) a bit complex. But, if that's something for you, then no harm in going for it.
Pros
There are multiple views available including kanban boards and Gantt charts.

It has a built-in time and task tracking tools.

Monday(.com) has a mobile app.
Cons
You can't assign tasks with comments to your team members.
Pricing and Features
The Individual plan which is good for up to two seats and perfect for individuals looking to keep track of their work is free. It includes:
Unlimited boards

Unlimited docs

200+ templates

Over 20 column types

Up to 2 team members

iOS and Android apps
The Basic plan costs $8/seat/month. Features are:
Unlimited free viewers

Unlimited items

5 GB file storage

Prioritised customer support

Create a dashboard based on 1 board
With the Standard plan at $10/seat/month, you get:
Basic features

Timeline & Gantt views

Calendar view

Guest access

Automations

(250 actions per month)

Integrations

(250 actions per month)

Create a dashboard that combines up to 5 boards
For $16/seat/month, you can get the Pro plan which includes Standard features, plus:
Private boards and docs

Chart view

Time tracking

Formula column

Dependency column

Automations

(25,000 actions per month)

Integrations

(25,000 actions per month)

Create a dashboard that combines up to 10 boards
Finally, you can go for the Enterprise plan for more. Contact Monday.com Task Management Software for a quote.
Zoho Projects—A Task Management Tool Fortified With Applications
Moving with the list, we have Zoho Projects at the tenth spot. Zoho Projects is a pretty good Task Management tool that makes project management an easy job.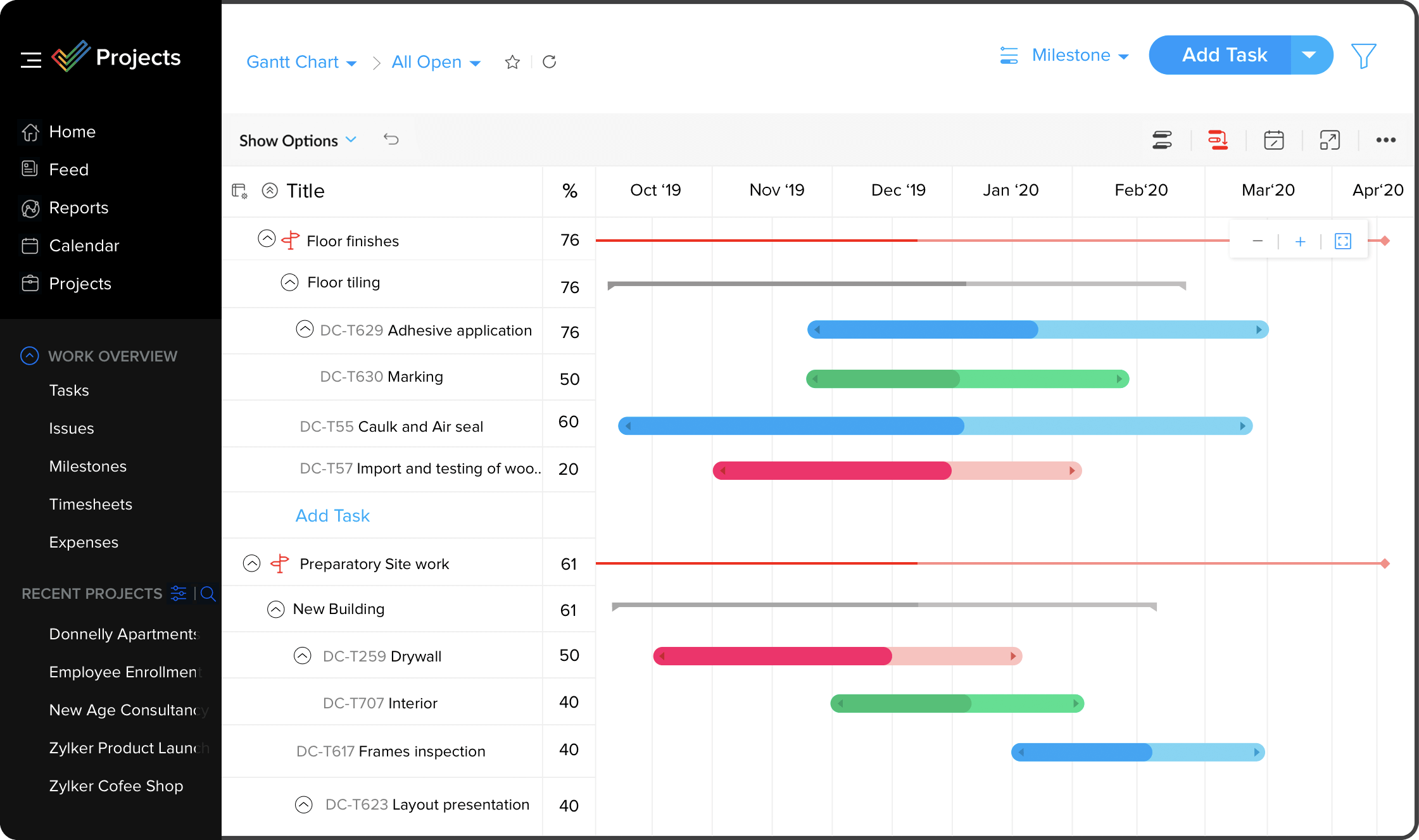 Teams that use Zoho Projects find it pretty convenient to assign tasks and track progress with the click of a few buttons. The best thing about it is that it offers a pretty big list of integrations, which makes the Task Management App even more powerful.
Pros
Zoho Projects has a free plan.

Key features include useful things like time-tracking.

It has great customer support service.

Zoho Projects has some great Gantt Chart functionality.
Cons
Zoho Projects dashboard isn't upto the par.
Pricing and Features
The plans are:
Free

(Up to 3 users, 2 Projects and 10MB of storage)

Premium

($4 /user/month when billed annually, Unlimited projects, twenty Project Templates, 100GB File storage, one Free training session)

Enterprise

($9 /user/month, Unlimited projects, 30 Project Templates, 120GB File storage, two Free training sessions)
ProofHub — All Your Needs in One Task Management Software
ProofHub is one of the best task management software out there and has all the tools your team could need under a single roof. It gives you greater control over teams and projects than ever and is intuitive and easy to understand. There are no annoying per-user fees and the pricing plans are fixed.
ProofHub allows you to plan with features like table view, Kanban boards, Gantt chart, custom workflow and custom roles. It also has features for collaboration like proofing, mentions, announcement and chats. Project templates, file version controls, calendar and request forms allow you to organize the work you have.
Apart from all these rich features it has several integrations, activity logs and comes in multilingual options so you can select from more than half a dozen languages for the interface.
Pros
Fixed price

Everything under one roof

Feature rich
Cons
The Essential plan does not have as many features as the Ultimate control plan which is more suitable for remote work and the post-pandemic hybrid work culture.
Pricing and Features
The Essential plan cost $45/month and allows you to manage 40 projects, unlimited users and 15GB of storage.
The Ultimate Control plan costs $89/month and allows for unlimited projects, users and comes with 100GB storage. It also has the following added features:
Custom roles

White labelling

Custom workflows

Project manager

Network control

Manage trashed items

API access for data transport

Project and resource reports

Advanced activity logs

Account transfer tool

Priority support

Data export
Wrike—A Versatile Task Management Software
Number twelve on my list of the best Task Management Software is Wrike. It's cloud-based and helps teams manage their projects efficiently and easily.
Wrike has customizable dashboards and calendars that can be easily shared between team members. It also has many native integrations with popular software. All these functions help make your task management workflow as smooth as possible.
Pros
Wrike is pretty easy-to-use.

The premade templates on Wrike are quite flexible.

Functions related to gantt charts are one of the best in any project management software.
Cons
Individual entrepreneurs might find Wrike among the less-affordable online Task Management Software.
Pricing and Features
The Free plan comes with:
Board view

Task Management

File sharing

Real-time Activity Stream

Spreadsheet view

Basic integrations
For $9.8/user/month, you can get the Professional plan, which includes:
Everything in Free plan

Task & Subtask Management tools

Gantt Chart

Advanced Integrations

Shareable dashboards

Collaborators
The Business plan costs $24.80/user/month. It comes with:
Custom fields & workflows

Shared real-time reports with scheduled notifications

Report templates

Graphical analytics

Calendars

Request forms

Project and Task Approvals

Time tracking

User groups & permissions

Salesforce integration

Workspace with your brands

Automation Engine
Lastly, there is the Enterprise plan. You will need to contact Wrike to get a quote for it.
Todoist—A Task Management Software for List Lovers
Todoist is a great Task Management tool for those who aren't looking for software with a steeper learning curve. Its key features make it one of the best easy-to-use project managers.
Todoist also has gamification options available, which help make the task management job less tiring and more engaging. Its key features focus on list-making. Some even call it a "Task List App".
Pros
Todoist makes it possible to manage your tasks offline.

It has many tools for making task lists.

It has cross-platform support (even with Linux)
Cons
The free plan isn't as great as some other Task Management apps.
Pricing and Features
The Free plan includes:
Up to 80 projects

Up to five people per project
The Pro plan costs $3/user/month and comes with:
Up to 300 projects

Up to 25 people per project

Reminders

Comments & file uploads

Labels & filters

Productivity trends
At $5/user/month, you can get the Business plan with the following:
500 projects per user

50 people per project

Team inbox

Admin & member roles

Team billing

Priority support
Any.do—A Calendar-Based Task Management Software That Syncs Across Your Devices
Any.do is a Task Management solution with a nice-looking UI that's fast and easy-to-use. It also has list app support. Any.do also has many view options available like calendar view.
Some of the key features include recurring tasks, priority tagging, reminders, etc. I would recommend Any.do to anyone who is an individual looking for a project manager for personal uses.
Pros
It has cross-platform sync support.

It lets you create recurring tasks.

The UI design is light and swift.
Cons
The free version is a bit too restricted.

Key features can vary depending on the app.
Pricing and Features
The Any.do Free plan gives you access to the following:
Sharing and Collaboration

File Uploads

Any.do Moment

Backgrounds and Themes

Color Tags
The Any.do Premium plan costs $5.99 per month. The highlights include:
Everything in the Free plan

Recurring Tasks

Customized Themes

WhatsApp Reminders

Location Reminders (Mobile)

Unlimited Daily Planner

Premium Support

Zapier Integration

Focus Mode
Liquid Planner
Liquid Planner is a project management solution that is dynamic and adapts to change and uncertainty, which is a huge help to teams in planning, predicting and getting work done more efficiently.
It allows you to assign the right people to the right jobs and to track where time is being spent. What makes Liquid Planner interesting is its ability to manage uncertainty through its smart estimation feature which mitigates risk from start to finish.
The predictive scheduling feature also helps you forecast when work will be done which can be of immense help while trying to plan a project. Liquid Planner also has powerful insights to help you improve performance.
Pros
Plans for uncertainty

Mitigates risk through forecasting

Great time tracking

Shows best and worst case scenarios for projects
Cons
The projects take a significant amount of time to set up and learn to use and there are no milestones or nonimage attachments.
Pricing and Features
Liquid Planner has the following pricing options:
Free

which allows up to 3 users, 6 resources, 10 projects, and 300 tasks in one workspace.

Essentials

at $15/user/month allows for unlimited users, 5000 tasks and 50 projects in a workspace.

Professional

at $25/user/month allows for unlimited users, 50,000 tasks and 500 projects in a workspace.

Ultimate

at $35/user/month does not have any of the limits previously mentioned.
The Best Task Management Software To Get The Job Done
Now that you've read through this article you should have a decent understanding of what's available and what you might want to start using. While it might be tempting to get carried away with all the features out there, resist the urge to splurge.
Keep in mind that the best Task Management Software for you is the one that suits your business requirements the most. It may be different from what my number one is, and that's totally fine.
This list will work as a great reference to help you make your final decision but remember that over-analysis leads to paralysis. So don't overthink it, check what meets your needs and is within your budget before you start implementing. And if you don't like it, well that's what free trials are for.
Now go get yourself the best task management software you need to make life easier and work more productive.
Frequently Asked Questions